While the organizers spend a lot of time and money on the webinars, little significance is given to pre-webinar promotions. Businesses can improve their ROI with webinars, but without any promotional efforts, there are likely to not receive good returns. An excellent way to broaden scope of your webinar and reach a larger audience without much effort is to use Facebook for promoting the webinar.
Facebook Events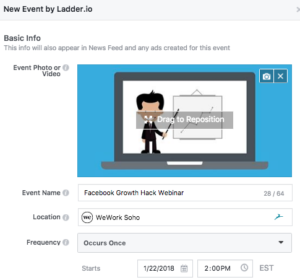 For pages that do not have a large following on Facebook, they can create a Facebook event to reach more people and gather interested audience to register by inviting them through the event. Also, you can Buy Facebook Page Likes to quickly increase the follower count. Facebook allows you to publish the landing page of the webinar, which you can use as the location. With Facebook Events, you can send out invites the same way for a webinar as you when hosting an in-person event. So, start by creating an event on Facebook and use the landing page instead of place. If you only want a targeted audience to know about the event, then keep the event private. Public Facebook events are created when the event is for audiences with varied interests. When you see users responding to the event page, share some content or leave comments to get people excited to attend the webinar. Moreover, after you have gathered a good number of guests, you can check the box for 'show guest list' so that new page visitors can see list of people willing to attend the event.
Quiz Contest
When the audience pay for attending your webinar, they expect to gain some valuable return in terms on information and tips that they would benefit them in their professional and personal lives. This means that with a charged fee, there is perceived value. In this scenario, it is a good option to host a contest where the winner gets a free webinar registration as their prize. Among the different types of contents held on social media, the quiz contests are quite popular and would work best in the given situation. With quizzes, fans can submit their prior knowledge about the content of the webinar. The person with the highest number of correct answers wins the contest. Holding a quiz contest is also an excellent way to determine the current knowledge level of your potential attendees.
Also Read: 4 Awesome Advertising Features on Facebook
Facebook Ads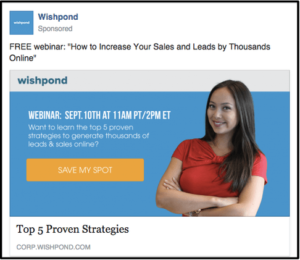 Facebook ad campaigns are quite effective and a direct way to promote an event. With features like Custom Audiences and Lookalike Audiences, the platform's advertising makes it possible to reach specifically targeted audience based on interests, location and demographics. For instance, you might only want target people who have subscribed to your email list. You can make the graphics, CTA and copy specifically for these subscribers. Make sure that your landing page is appropriately designed and is consistent with the event page. The content on the landing page should be easy to read and understand.
Social Proof
The more time you spend engaging with your Facebook audiences, the more they are going to share your webinar with the people in their social networks. One of the easiest way to increase engagement is to add social proof to the updates that are meant to promote the event. The social proof can also be added to the webinar itself and promoted on Facebook to create a buzz. Social proof can help bring in new listeners who do not know about you. A good way to include social proof is by finding sponsors for the webinar. This is because the words 'sponsored by' can have a significant impact on the mindsets of your Facebook audience. Moreover, people are more likely to spread the word about the webinar if it is sponsored by a well-known reputable organization. In addition to this, if you have some customers who would like to share their success stories, it would be a good idea to invite them to host the webinar. Featuring them in a webinar and creating Facebook content and promotional ads around the third-party is another technique for adding social proof.
Updated on