It is not uncommon for people to spend most of their time on Facebook; and that has changed the way they discover, learn and buy. Videos on Facebook have become a channel where users are increasingly discovering and learning about new offerings and products. In fact, 30% of the mobile shoppers claim that videos are the best way for them to discover new products. Keeping this in mind, Facebook came up with a new ad format this year, that lets brands draw in users with engaging storytelling and encourage them to buy their products or services.
Also Read: B2B Marketing with Facebook Ads
What are Collection Ads?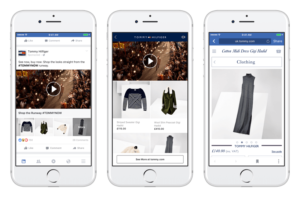 For all those retailers looking to communicate using a lot more than
a single image or video, Facebook collection ads are a combination of both, storytelling and product display in a single advert. The format primarily targets users on mobile devices and features an image or video above a collection of linked images relating to the media. If the user clicks on of these images, they are immediately directed to an on-site experience that shares up to fifty products with them. Collection ads are a perfect solution for e-commerce companies that are looking to reap benefits of dynamic ads. They can inspire sales by sharing deeper brand stories and highlight a range of products or services that are best fitted to the featured story. On a side note, if you are looking for ways to increase your Facebook page audience, you can Buy Facebook Page Likes.
How to Create a Facebook Ad Collection?
To get started with your Facebook collection ad, you need an image or a video as the feature piece along with a product catalog. Choose your ad objective as traffic or conversions in the Ads Manager. Choose your targeted audience, budget, schedule and your ad format as Collection. Next, you will be asked to upload your featured media, whether it is an image, video or a slideshow. From the drop-down menu you can choose your pre-installed product catalog and determine how to isolate the products in each set by considering product type, size, brand, price, pattern, gender etc. In the section for products featured in News Feed, you can select which four images you want to display beneath your featured media. Once you are satisfied with what you have created, click on Post Click Experience to preview the ad and see what it will look like when users click through on an image.
Updated on